The Longest Dab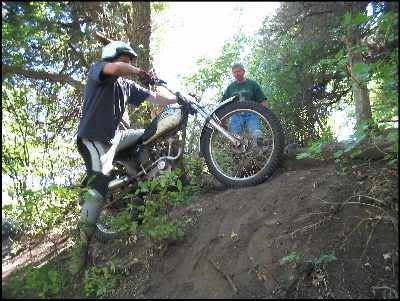 We have successfully completed the great 2006 B&J Racing Western Trials Tour and Dual-Sport Extravaganza (WTTDSE).
The shot above is of the one and only, infamous Long Dab Graham (LDG). While having completed both days of the AHRMA National Trials at Mosteller Ranch, Casper, Wyoming LDG, Mikey P. and the GURU took in a little extra-curricular activity playing on some of the interesting and fun terrain available. The small log strategically placed at the top of this climb seemed to be a formidable adversary to the Triumph Cubs of LDG and Mikey P. Or was LDG merely exhibiting the technique of proper position of foot placement for the prevention of tumbling to the ultimate view of sky, ground, sky, ground, etc.......
By the expression on Mikey's face I can only assume that he's thinking, "Oohh, this could leave a mark!" Personally, from my position of downhill photographer I was simply hoping he wouldn't fall on me!
He did save it and lived to dab again, but his eyes were pretty big, they almost glowed. We survived the rest of the afternoon and headed the next morning for dual-sport adventures in Colorado.